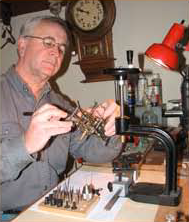 Contact Me
bill@fixitech.com
92 Thompson Road
Westmoreland, NH 03467
603-313-9396
Clock Repair and Restoration is My Passion
With over 35 years of machine design experience, I see clocks as just another group of small machines. My machine experience, along with woodworking capabilities, has allowed me to create a clock repair business that gives great satisfaction to me and my customers.
I am located near Keene New Hampshire, just a short drive up Route 12 in Westmoreland.
My labor rate for clock repair is $45.00 per hour.
Costs will range from $90 to lubricate a clock to perhaps more than $500 to overhaul a complex clock that has not been well maintained.
At the end of the project, you will have a quality restored clock.
Clock Repair Services
Movement restoration
Case cleaning
Case repair and refinishing
Routine maintenance
Dial replacement
Battery movement replacement
Battery movement conversions